Forget: Roma 'v' Lazio,
Forget: Celtic 'v' Rangers,
Forget: Fenerbahce 'v' Galatasaray,
Forget: AC Milan 'v' Inter Milan,
Forget: Boca Juniors 'v' River Plate,
Forget: Barcelona 'v Real Madrid,
Forget: Ossett Albion 'v' Ossett United,
Remember Manchester United 'v' Manchester City.
The 151st derby match between these two sides has more than usual resting on it: apart from the bragging rights around the city (although since the average United fan is from Singapore, that won't matter), there is the not so small matter of the Premier League title to be decided. With the home side just three points ahead of closest challengers Liverpool, albeit with a game in hand, City could put a serious dent in United's title ambitions with victory here.
City come into this highly charged match on the back of four consecutive victories, including three in the Premier League, a feat they had not achieved since October 2007, so confidence is high for the Blues. This is a similar case for the side from Stretford, who have won their last six Premier League matches, and in midweek they overcame a youthful Arsenal side to clinch their place in the Champions League final for the second consecutive year. The Blues have proved victors in two out of the three previous matches between these sides, whilst in the past 150 encounters, City have scored exactly 200 goals.

The last derby at Old Trafford, the 50th anniversary of the Munich disaster, was impeccably observed by both sets of fans
Team News
Blues boss Mark Hughes's squad is bolstered by the imminent return to first-team action of both Pablo Zabaleta and key midfielder and ball-boy look-a-like Shaun Wright-Phillips. Although this is clearly magnificent news, Hughes will be faced with a tricky selection dilemma as he ponders the make-up of his side for this encounter. If SWP returns, as expected, then Hughes will be forced to decide between Elano, Stephen Ireland and Robinho to decide who to drop, although considering the recent form of the Brazilian duo, the smart money would be on Ireland. However, the Irish midfielder has been City's stand out performer this season, so it would be a brave move to drop him. Although not entirely envious of the decision to be made, I'd quite happily be paid £6 million a year to sort these things out!
Sir Alex Ferguson will undoubtedly make a plethora of changes from the side which defeated Arsenal in midweek. The rotation policy will surely be employed, with Ryan Giggs, disgracefully awarded the Premier League player of the year title having only started twelve league matches, and Paul Scholes bound to be the greatest beneficiaries of this policy. Portuguese winger/diver Cristiano Ronaldo is in the midst of a purple patch at the moment, whilst Ji-Sung "It's a Nice Day, Let's Go To The … " Park may be handed a starting berth on the left-wing.

Look-a-like (1): Shrek and Wayne Rooney
My Team (4-4-1-1)
                                                      Given
Zabaleta                       Dunne                        Onuoha                         Bridge
SWP                             de Jong                      Kompany                       Ireland
                                                     Elano
                                                    Bojinov
Subs: Hart, Richards, Garrido, Petrov, Robinho, Caicedo, Evans (or Sturridge if fit)
Key Battles
Edwin Van der Sar 'v' Shay Given
It's been a while since the previous goalkeeping key battle, but with the final result likely to be decided by the actions of the respective 'keepers, the contest between Van Der Sar and Given will be crucial. The Holland international broke a record earlier this season for minutes played without conceding a goal, but there are still doubts over his credentials. With the-not-quite-as-promising-as-Joe-Hart understudy, Ben Foster, looking to cement his place in the side, Van Der Sar will have to perform at the top of his game. Given, a January transfer signing from relegation threatened Newcastle, has added much needed stability and confidence to the Blues' backline, and he will need to use all of his vast experience against United, when he will come up against a powerful strikeforce. In addition, his ability to deal with Ronaldo's free-kicks will be crucial.

Look-a-like (2): Richard Cresswell and Edwin Van Der Sar
Ryan Giggs 'v' Nigel de Jong
The United winger turned central midfielder has been greatly acclaimed this season and was recently awarded the Premier League player of the year award. However, as previously stated, the Welshman has only started twelve league games this season, so is somewhat of an undeserving recipient. On his day, Giggs is still a force to be reckoned with, and his majestic passing has caused numerous problems for City over the years. But the Blues now have a midfield enforcer of their own in the form of recently acquired Dutch international, Nigel de Jong. The holding midfielder does as the name suggests, in a similar way to Renseal, and sits in front of the back four, intercepting opposition attacks and distributing calmly and effectively. He will certainly have a major task on his hands on Sunday, but I feel he is more than capable of playing a crucial role in the game.
Carlos Tévez or Dimitar Berbatov 'v' Richard Dunne
Sir Alex Ferguson's rotation policy means that either or indeed both of Tévez and Berbatov will start this fixture and whichever striker plays will pose a threat to the City defence. The Bulgarian is often accused of being lacklustre and not working for the team, while Argentinean forward Tévez is the exact opposite of his teammate. Both players are capable of scoring sensational goals, so the rearguard of the Blues, ably led by Sir Richard of Dunne, will have to be on their mettle. The City captain has been under-par this season, but in the past, he has always been at the top of his game for derby day so Mark Hughes, formerly of United, will hope that the Irish international can rediscover his form.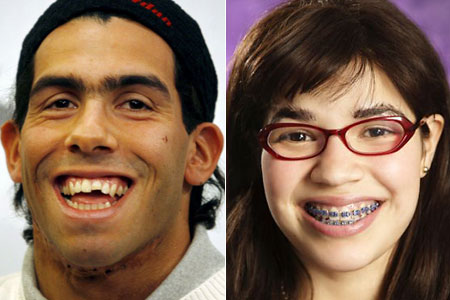 Look-a-like (3): Ugly Betty and Carlos Tévez
Verdict: Man Utd 3 - 1 Man City
Realism over optimism. United will possess too much quality for the Blues despite Hughes's men sure to put up a good effort. Goals to be scored by Stephen Ireland, Cristiano Ronaldo, Dimitar Berbatov and Wayne Rooney.